There is a wonderful farm, and farmers stand, in Knowlton, NJ, which is about 20 minutes from our house. I start going there when they advertise their local corn. They don't grow just 1 or 2 types of corn but more like 5 or 6 so you have a few to select from. This time they had 2 yellow varieties, 2 white and 2 bi-color. I forget the names but I bought 3 ears of yellow and 3 of white. They also sell their own tomatoes, flowers, peaches, and they also sell their own peanut butter, local honey, NJ hot sauces (Hoboken Eddies for one company) and some local and PA (they are right by the border of PA) fruit butters, jams, jellies and relishes. It is a really nice stand.
Here is a link to their website so you can see some pictures of their stand:
http://www.marshallsfarmmarket.com/
This is the inside of the farm stand - you can see a lot of their products. It is chock-full!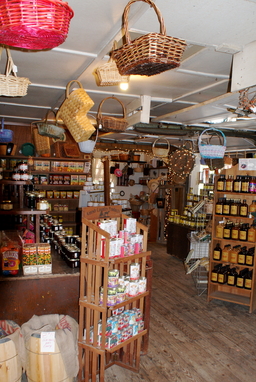 This is the outside. They also sell locally made outdoor furniture and they grow sunflowers and zinnias and other flowers. They sell those too. You can see some of them on the right hand side of the picture.