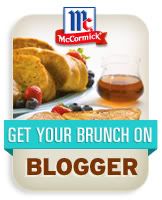 On a beautiful Sunday, serve a cool but refreshing beverage. Ginger-Spiced Ice Tea tastes delicious and puts a fun twist on regular old ice tea.
Ginger has become a well known ingredient to add in food and drinks to enjoy an intense flavor. With a bold taste ginger can warm the tummy and has beneficial healing qualities. Often used to soothe a tummy ache, ginger is readily available in a ground form by McCormick.
Choose your favorite brand of plain tea. Many brands make "ice tea" tea bags and will brew quicker than traditional kind. Depending on time, decide what will suit your needs. I like quick brew tea bags and prefer the ability to brew easily. Use a large pitcher or bowl and follow the directions for preparing the tea.
When the tea is still warm, add 1 teaspoon of McCormick's ground ginger. Stir well until the ginger is blended well. Second, add one teaspoon of McCormick's Nutmeg. Stir again until the tea is blended completely.
Use a paper coffee filter to line a small colander. Pour the tea mixture through the colander to remove any particles of nutmeg and ginger. Refrigerate tea until ready to serve.
Sweeten to taste using honey, as it provides a better flavor than sugar. The best way is to offer ginger-spiced ice tea with honey seperate. Let the guests sweeten as they desire.
Add four ice cubes to a tall glass and fill with the tea blend. Garnish with a slice of lemon and enjoy!