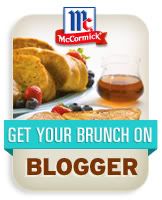 Often, brunch is associated with Mother's Day. A great way to spend the nicest part of the day with Mom, the combo of breakfast and lunch is always a crowd pleaser. How come brunch is made up of fluffy dishes with no real substance? Mom's like real food too!
A great dish at our Mother's Day celebration is a barbecued whole chicken. So easy to make, everyone will be licking their fingers dry! Try something new this year and surely Mom will be thrilled. Even if Mom is hosting her own brunch the minimal preparation and cooking is a something she will not mind.
While preparing this recipe, remember to have fun and do not worry about the measurements.  These spices are fun and only add more flavor the more that is added.
Decide how many people will be eating. Get several whole chickens (quartered) from the butcher.
The night before cooking, take the pieces of chicken and put them in a large bowl.  Drizzle olive oil over them. 
Use McCormick's Paprika and sprinkle the chicken well. Mix well to evenly distribute the paprika and ensure all pieces of chicken are covered. Use McCormick's sea salt and add approximately 1 teaspoon.  Depending on taste, add more or less sea salt.  Add McCormick's Black Pepper grinder and add just enough to evenly coat the chicken.
Use Honey BBQ Chicken Glaze Seasoning Mix to marinate the meat overnight.
Heat the grill to 400 degrees. Sear all side of each piece of chicken to ensure the flavor is locked in. Then lower the heat and let the chicken cook for about an hour. Check each piece by piercing it with a fork to see if the juices are clear.
This chicken is so good, next year everyone will come expecting chicken. Give you mother a real meal and include Barbecued Chicken in your brunch!